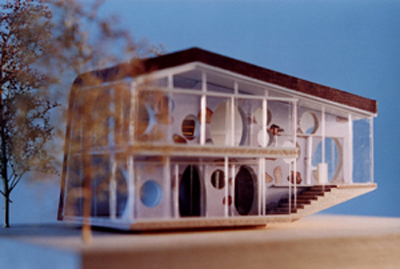 Project: architecture
Program: holiday housing
Designteam: Bart Goedbloed, Harmen van de Wal
Commisioner: self initiated project
Location: Rotterdam
Start of design: September 2000
Area: 130 m2
photograph models: Jacqueline Schellingerhout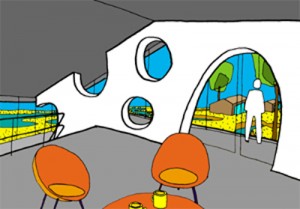 The holiday house is a detached house designed for holiday resorts or private plots in watery surroundings or at forest edges. The house is a timber frame structure with large glass façades and a thatched roof. The house combines intimate closeness with complete openness. The living room on the first floor is situated behind a massive stone wall. Large round holes in the wall provide a view over the wide surroundings. At the other side of the wall there is a verandah along the complete length of the house. During winter time, when the glass façade is closed, this area functions as a winter garden.
The house uses passive solar energy to the optimum. The winter garden and the wall with the round holes play an important part. In winter time, when the sun stands low, the wall is heated by the sun. The wall stores the warmth during the day and transfers it to the house by radiation and convection during the evening and night.
In the summer the wall is the coolest place in the house. The cantilevered roof ensures that the wall stays in the shadow during the warmest hours of the day. During these hours the wall transmits the stored coolness of the night to the house.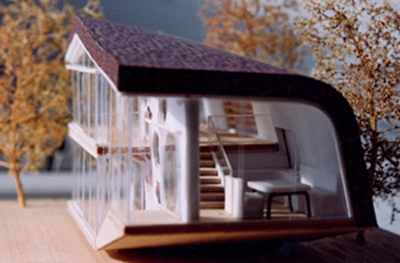 Tags: architectuur, private house, sustainable