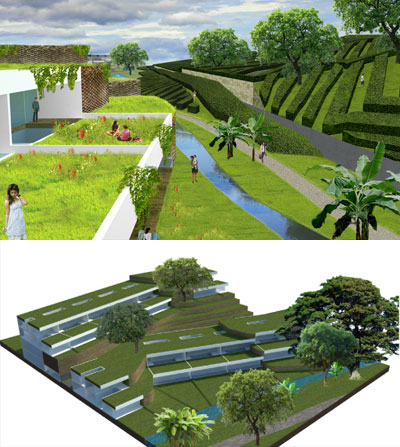 design: Harmen van de Wal with Emilia Golebiewicz, Jessica Cangini, Monika Novkovikj, Monica Väth
program: 450 dwellings
location: Bandung, Indonesia
A new suburban prototype, houses embedded in landscape is developed as the next evolutionary step towards sustainable housing in Indonesia. The approach integrates elements of energetic, climatological and social sustainability, fitting the Indonesian cultural context, by creating a neighborhood with mixed functions, in which each house adds to the green feel of public space.
The housing types were developed to refer to two important West Javanese landscapes: the tea plantation and the rice fields. A patio house with a green roof is used to create a pattern similar to that of tea plantations, giving an interior world, while the other type, green roofed too, is build in terraces, providing panoramic views on the landscape.
The terrace houses are grouped around a service street, giving access to the independent service quarters and the garages in each house. Here start-ups can be established, that can later move to workshops at the edge of the neighborhood.
The green roofs provide clean air and, more importantly, reduce the surface water run off drastically. Each housing type has been developed to enable airflow through the whole building, reducing the need for air conditioning and energy consumption.
Show slideshow.