project: architecture
program: housing for seniors, community center
designteam: Harmen van de Wal, Debjani Sarkar, Sonia Sousa, Beverley Walker
commission: competition
location: Fieberbrunn, Austria
design: 2008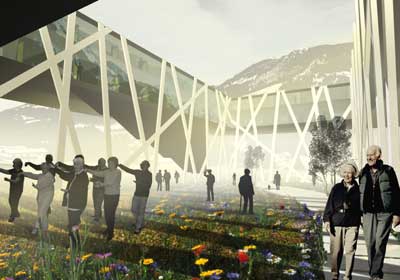 A senior citizen's home is basically a housing collective. It is most known for it's major disadvantage; collectivity may impede the initiative of the residents. But it also offers advantages, both socially, one meets people with similar life experiences and expectations, and physically; the common areas are large and thereby act generously. With the balance between autonomy of the inhabitants and the benefits of collective housing found, the monumentality of a building is a contribution to the self esteem of those living in it.
The planning rules restrict the organisation of the building to maximum two floors, which, in combination with the exposed location of the building on the hillside creates a natural monumentality. Horizontally organised as a building block the building is connected to ground floor on one side. As the area slopes down, it is lifted from the hill, hovering above the meadows, supported by a lace-like intertwined set of pillars. The court yard of the building block, clearly marked by the columns, is left open to the countryside.