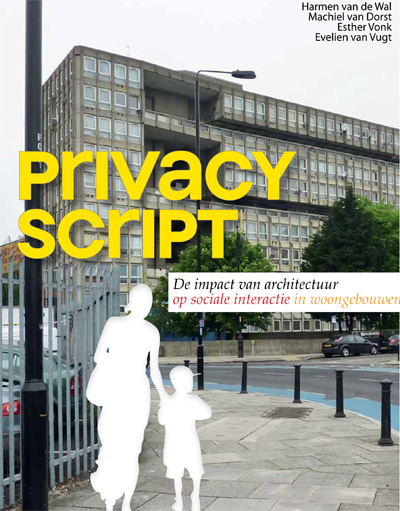 research: Harmen van de Wal, director of Krill-orca; Machiel van Dorst, associate professor environmental design – urbanism, faculty of architecture Technical University of Delft; Theresia Leuenberger, architect and researcher, PhD at Technische Universität Berlin.
Analysis buildings: Harmen van de Wal met Jessica Cangini, Lucy Cassels, Lucie Delion, Myrto Karydi, Saskia Lambers, Nathan Leclercq, Laura Lopez, Dario Marino, Marta Morais Miranda, Angel Navarro, Monika Novkovik, Ana Popovic, Daniel van Staveren, Monica Väth
text: Harmen van de Wal, Machiel van Dorst, Theresia Leuenberger, Esther Vonk, Machiel van Dorst, Theresia Leuenberger, Esther Vonk
general editing: Harmen van de Wal
editing art pages: Esther Vonk
editing images: Evelien van Vugt
text editing: Wim Platvoet
graphic design: Evelien van Vugt with Jiske van Gaalen
publisher: Thoth
Out now! Our publication of Privacyscript, the impact of architecture on social interaction in apartment buildings.
The objective was to create tools for architects and developers for developing socially sustainable residential environments, by making use of sociological and environment-psychological knowledge which is already present, but not yet combined in this way. The book contains analyses of interesting cases such as the Robin Hood Gardens in London, the Justus van Effenblok in Rotterdam and Nirwana in The Hague.
Show slideshow.