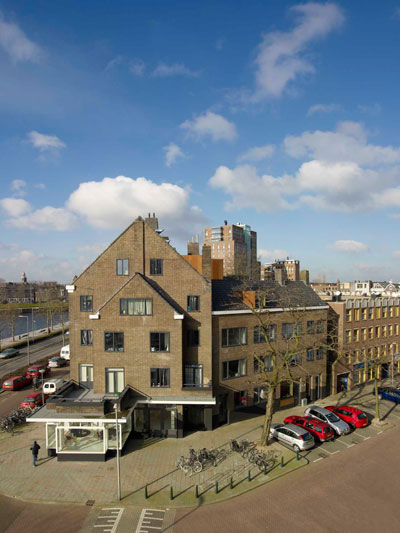 Project: renovation, youth housing
Programme: housing and offices for youth
Client: Woonbron Ontwikkelbedrijf, Woonbron Delfshaven, Stichting Jong
concept: Greetje Hoiting, Ruud Reutelingsperger, Harmen van de Wal, Alien van der Haar
Design: Krill Architecture in collaboration with Cristian Müller Architects: Harmen van de Wal, Christian Muller with Arnold de Bruin, Barbara Costatino, Raimonda Cibayte, PaulPeter Kuper, Magdalena Merchan, Jiri Serek,Elena Vicente
Location: Rotterdam
Start design: September 2010
Realisation: December 2012
Advice: Boonstoppel
Constructor: VanDijkeBV
Contractor: Van Wijnen Stolwijk
Lights Het Buro: Solid Lighting
Photographs: Jeroen Musch
Shortlist Rotterdamse Architectuurprijs 2013
Socially sustainable
Het Buro/De Bovenkamer is a project originating in the manifestation Make Place in the Netherlands Architecture Institute. It coincided with the Rotterdam Year of the Young Adults, therefore a concept has been developed by artist Ruud Reutelingsperger (Observatorium) together with young adults. The young adults expressed the need for a space enabling young emerging enterprises. This concept has been adopted by housing corporation Woonbron. Woonbron bought five run down apartments and a shop in the corner of a row of terraced housing. During this second stage, Krill architecture was asked to participate in a development group to create a programmatic concept and a spatial sketch. This resulted in a concept for office space and 24 studio's. 12 of wich are meant for young adults, who, having a history of dropping out, are provided guidance for one or two hours per week on their way back to independency, while the other studio's are reserved for young professionals, acting as role models.
Architectural archaelogy
During the preliminary design phase, Krill Architecture asked Christian Müller to participate in the design process. The building was in a deplorable state after being neglected for years, nonetheless it was granted a monumental status during the design process. Krill/Christian Müller Architects decided to deal with this by revealing all time layers in this building, thus not only the architectural-cultural layer was treated as a monument, but also the used material, and traces human intervention, from the earliest notes of the original builders, drawn with pencil on previously covered beams, the traces of black coal on the walls where the chimneys were removed, to the new Cor Ten steel roof additions with structural glazing.
Spatially the building has been drastically changed. The labyrinthine structure, result of numerous previous conversions, was traded in for a clear subdivision, with a central hall on each floor. Developed to enable informal contacts between the inhabitants, all halls have their individual bonus: the first floor is a 'square' , the second floor has a small 'peninsula' with a view to the street, the third is connected to the second through a void, while the fourth has access to the roof garden.
To enable the spatial clarity, a structurally difficult task was performed; half the carrying wall was removed on site and replaced by a steel truss. This created a single wide space on the ground floor level, with place for 16 emerging offices and a coffee corner for the neighbourhood. A glass zone on the floor offers, through the exposed, old beams and the installation tubes, a view to the 'underworld' downstairs, with conference rooms, toilets and flexibility space.
Not only social sustainabillity has been served by this project, great care was also taken to ensure energy efficiency and the use of C02 neutral materials. Using an integrated balanced ventilation system, solar collectors and insulation, the energy consumption level went from a high energy consuming level G down to the green level A.
Minister of neigborhood and integration, Van der Laan visited the project in 2012, and it has been shortlisted for the Rotterdam Architecture prize in 2013
Show slideshow.