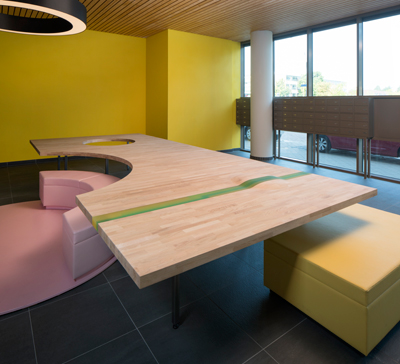 Location: Vlaardingen
Project: interior design entrance hall
Design: Krill o.r.c.a.
Design team: Harmen van de Wal with Paula Corres Baral, Antonia Dajak, Saskia Lambers, Sebastian Nitu
Client: Waterweg Wone
Carpenters table: Floris van den Burg, Vincent de Rijk
Carpenter library and couches: Jos Noorhof, Kaya stoffering
Photographer: Frank Hanswijk
Housing corporation WaterwegWonen approached Krill, after finding out about Krill's publication on privacyscript and social sustainability, with the question to find a solution for a recently build apartment building with social tension due to bad collective space design. In a process in which the inhabitants were actively involved, a design was made for an object combining a large table, a microlibrary, and a lounge area.
Show slideshow.