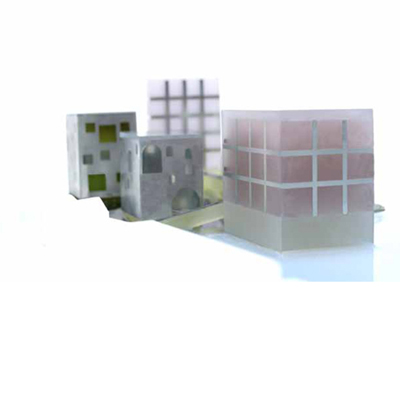 Project: urban planning
Commision: Lex Wallsall Competition
Designteam: Harmen van de Wal, Patricia Venero, Beverley Walker
Program: housing, conference centre, hotel, parking
Location: Wallsall, United Kingdom
Start of design: May 2008
Wallsal waterfront is promising to be a treasure to the city. It is a hidden potential, step by step revealed to the public. This started with the development of the art galery at the very end of the canal, it will be brought a significant step closer by the 1st phase master plan. Providing the necessary shelter against the road, the new public space is a treat for Wallsal. Now the final step in exposing this treasure needs to be taken. The waterfront needs to open up and show it's beauty to the rest of the city. Therefor we propose a way of ending the water axis in a water park. A place where water cannot only be seen, but also experienced. Five buildings with relatively small foot prints are loosely positioned on a square. This square is tilted, using the exisitng slope, and sinks into the water, giving four of the buildings wet feet. The buildings are connected through an arching, cross shaped bridge with each other and the quays. Coming from the highway, this transparently organised set of buildings immedialtely shows the waterfront when crossing the bridge.
The city of Wallsal lacks performance space. It was also suggested that a conference center was needed. It is distributed over four buildings, to intertwine it in the urban fabric. Foyer, conference rooms, meeting rooms are positioned in different buildings connected through a corridor unther the arching bridge. From an introverted black box, the conference center now is opened up, just like the waterfront is. It is a flexible scheme, allowing different simultanuous use when needed. When a conference is being held, the dynamics of it immediately makes itself seen from the public space.
Show slideshow.